Steve Ballmer gave us a look into the future strategic direction of Microsoft and on what and where he places his bets in the tech industry during his interview with Charlie Rose aired last week.
He made it clear that the last few years which he considers amongst his most successful were about reducing the level of indirection in Microsoft's business model. In the past Microsoft had a good working formula that focused only on software with some hardware on the periphery. However, the changing times that we live in has shown the limitations of such a model and now a quick feedback loop is essential especially in the consumer and mobile space.
What this means is that for a company to be successful it needs both hardware and software capabilities or "muscle" as Steve calls it. In the consumer space this means you need to develop phones and tablets while in the enterprise this may require developing network switches, storage and hyperscale baremetal servers to deliver cloud services. Integrated innovation is a requirement and that means his devices and services vision is integral and it will be realized in the form of Satya Nadella's "Mobile First, Cloud First" execution.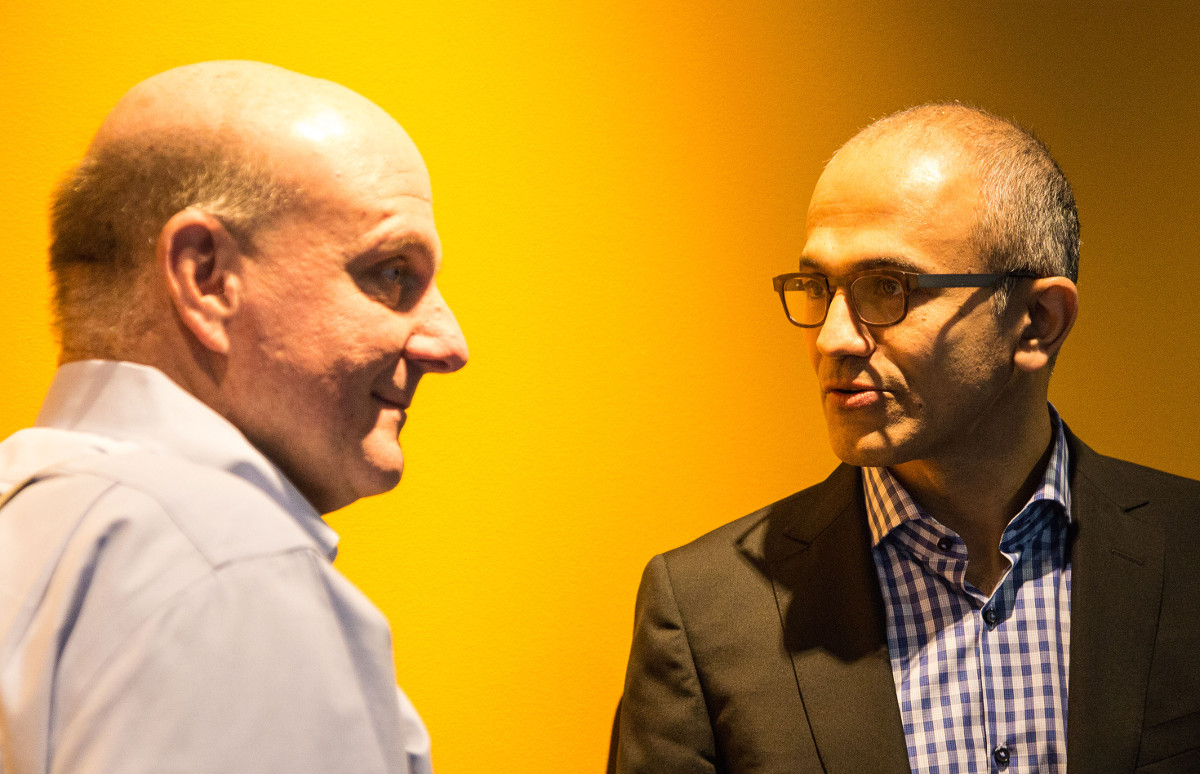 Photo by Microsoft. Steve Ballmer and Satya Nadella
Apparently it was this philosophical shift that resulted in the tumultuous board meeting which ended in the decision to ratify the purchase of Nokia's mobile devices division but more consequently it resulted in Steve leaving as CEO and Gates resigning as the Chairman of the board. Ballmer won this battle but victory came at a cost.
Important in this reflection is to take a look at the breakdown of Microsoft's actual revenue. Revenue today is comprised of between 70 - 80% enterprise related business. This encompasses it's cloud and services business, dynamics and CRM, Office and server and tools. To me what this really says is that whats driving the profit and growth at Microsoft is its relationship with the IT function of traditional organizations. It's not the consumer market that is its main customer or market but business organizations and their users are. As long as it continues to deliver on those needs it has bright future.
Photo by Microsoft. Satya Nadella.
That means it has a made the right choice in Nadella to be CEO. As the former head of its cloud services and previously server and tools, he was responsible for building out the cloud business and maintaining profits in the enterprise segments. So Microsoft remains a good bet and like Steve I believe its stock price will go up.
Many would compare MS to Google. However, Google is busy with Apple and in many ways the world looks a lot like it did before and MS is really still in a boxing match with the enterprise software guys in the form of Oracle and SAP. So while quite a few believe Google is its nearest rival I think actually it's Oracle that will be hit in the short run as its databases, ERP, CRM, and E-Business suite application margins and market share get eaten by Microsoft in the traditional formats. In addition with Microsoft converting more and more of its applications to cloud friendly pay as you go services that run on its Azure cloud Oracle with is massive license fees will under deliver on what businesses need now which is to save money. Furthermore, Oracle has a primitive cloud strategy and has put all its focus in creating big bang mainframe like engineered systems to compete with IBM while its cash cow software stack remains vulnerable. Today Oracle licenses are even more expensive than Microsoft's and it will feel the pain as it is squeezed between MS and the new kids on the block such as Workday and Salesforce.
Photo by cultofmac. Larry Ellison.
I am not sure that the Engineered Systems bet by Oracle will pay off in big enough volumes to offset any major declines in application revenue and license renewals. It may definitely kill off IBM's mainframe business but to be frank IBM is a shadow of its former self and there is no joy in killing someone that is already terminally ill. Also in a cloud centric world buying into big iron is an anachronism when you can get those same business services which are ultimately the only thing that matters for less up front costs by purchasing only what you need from software providers over the network. If I were Larry I would worry less about my low margin hardware businesses and more about the fact that people are starting to think of Java not as rock solid and secure infrastructure but instead as an old and difficult to maintain framework that is riddled with leaking holes to plug. Your prized technology is starting to feel a lot like COBOL, you also have nothing to match Azure and .NET is sexier than you.
Finally, the last interesting tidbit from Steve was his perspective on three other tech titans. Obviously, his veins bleed Microsoft and the company remains his number one bet but surprisingly if given a choice in which hand he was dealt he would pick Apple in the short term, certainly not Amazon's hand ever and Google if he had to chose a company with as bright a long term prospect as Microsoft.
In contradiction to the analysis of many business, MBAs and Benedict Evans he does not think that Amazon having no profits is ok. He is not buying the argument that they are simply reinvesting their revenues and that is why their balance sheet says zero or more recently negative. As far as he is concerned they don't have anything to show for 20 years of taking shareholder money.
What do they have? In my world you are not a real business until you make some money.
Steve Ballmer (2014).
I on the other hand do think their business is viable because they do deliver real value to consumers, suppliers, and logistics firms. They may threaten content owners but they clearly either save or make money for the categories mentioned previously. As for the value to their investors...that's another matter entirely. They do have profit but whether all that reinvestment is worth it is certainly questionable. So, yes the jury is still out on Amazon and at some point they will have to atone to their share holders. Therefore, these expansions into other areas better pay off and pay off big time otherwise they will be in for a considerable downsizing.
So whose hand would you rather have? Is it Tim Cook's at Apple?
Or Eric Schmidt and Larry Page's at Google?
Or are you the gambling type and want to roll the dice with Jeff?
Maybe your afraid. In that case, stick to the safe zone and play the game with Steve and the certainty that is Microsoft.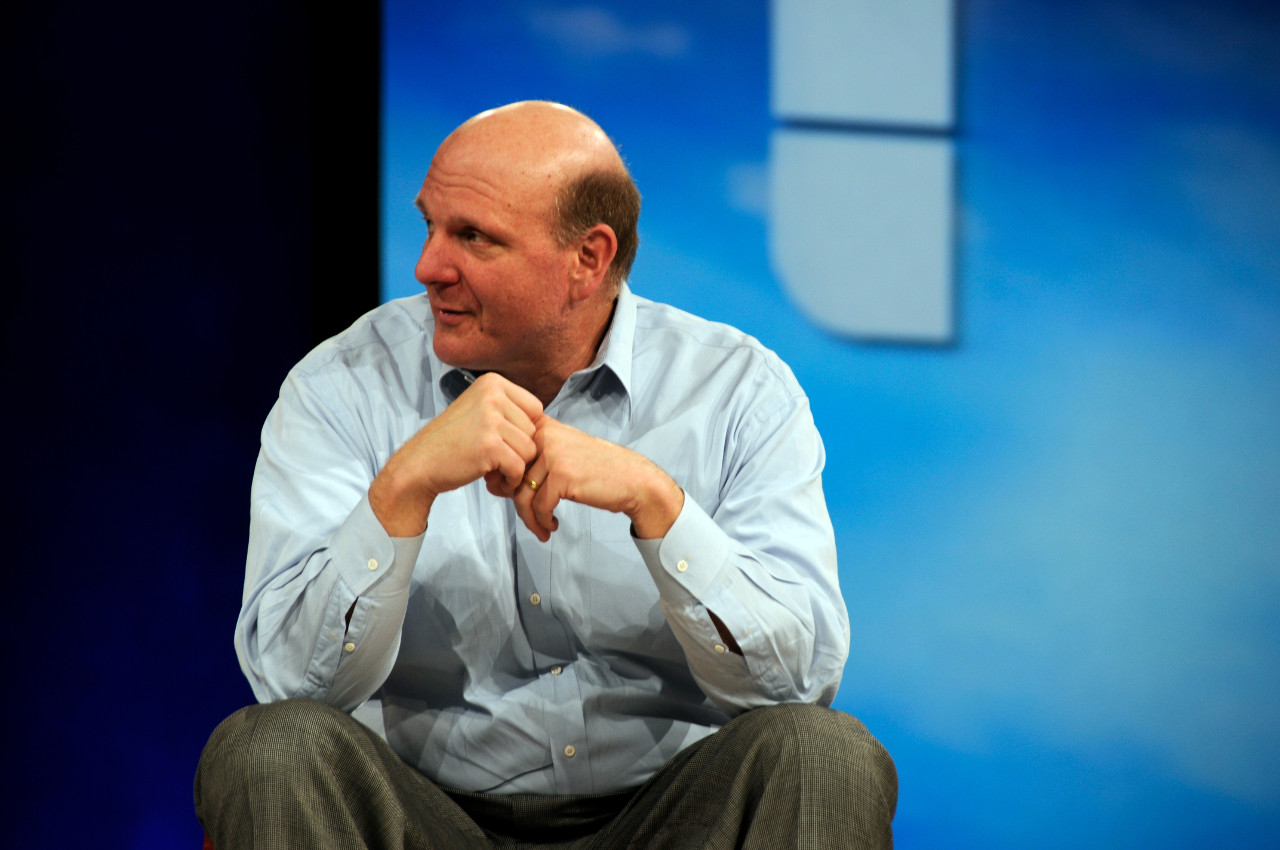 Steve Ballmer. Photo by Jesús Gorriti.
You can watch the full interview below.