The time has finally arrived where there is no longer any reason to own a license to run Microsoft Office on the Desktop. You may not even have a Laptop/Desktop to begin with. Yesterday, I came across this nice article by Joanna Stern over at WSJ that pretty much echoed this very idea that I have had for awhile now.
The reasons behind this are two fold. The first is cost. Simply put the price is not worth it because the alternatives are finally good enough and most people use significantly less than a third of the actual features available that would justify the price premium anyway.
Microsoft Office is so feature-packed, most users barely scratch the surface of its functionality. TechRepublic 2013
Below is a look at the current pricing for Office.

To make sense of the prices above let's take a look at Office's nearest rival. Google Docs.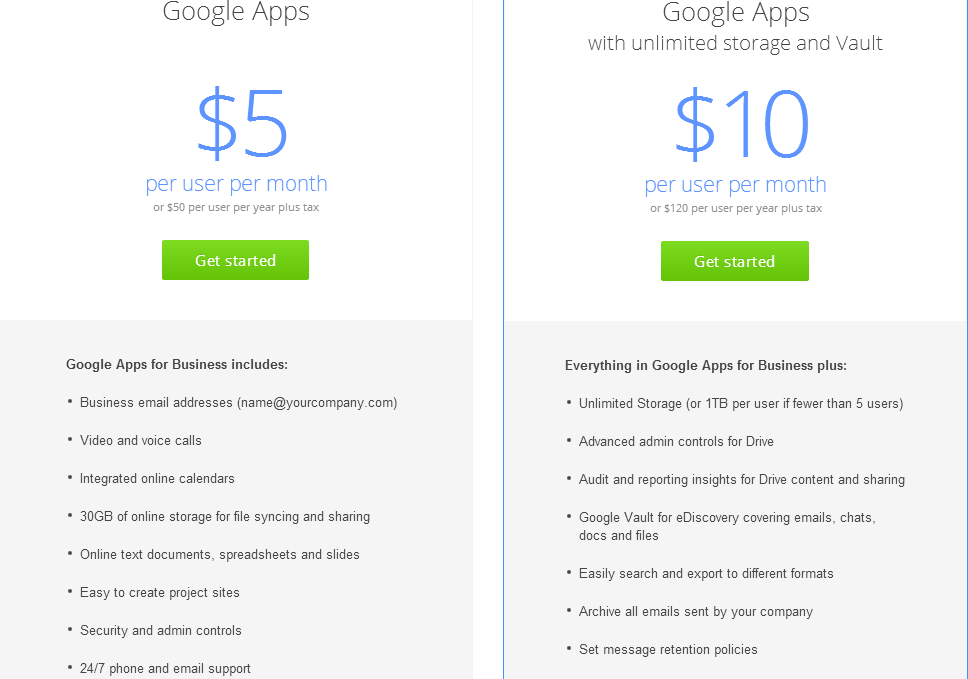 Omitted here is the fact that both Docs and Office are completely free for personal use. In both cases you get the storage capacity associated with your Google Drive or Microsoft OneDrive account. Note, that the free personal use version available for 365 is available at Office Online but it is a limited version of 365. It does, nevertheless, exist.
The free version of Docs covers the most relevant features all the way up to the Office Home & Student versions. Which means that basically for everyone except corporate citizens or those who otherwise have extreme privacy issues or demands that require those special features available in Office (there are many) you shouldn't be purchasing Office since the prices above are juxtaposed to the alternative which is $0 for Docs et al and also zero for the personal version Office Online. As you can see life starts to get hard when you are competing with free. Especially when quality is no longer an issue and you are increasingly being made into a commodity product. So if you fall into any category that is not a business you should not be buying Office software. Hands down.
Despite the previous statement the price comparison above does have more validity when talking in relation businesses. Even in this case though Office is still priced at a premium but in this scenario it does have a quality advantage due to its increased functionality and the ability to also be run natively which may suit some business cases. Also businesses in general require stricter controls over their information so privacy becomes a bigger factor. For the business case the consensus appears to be that 365 is better although the savings only really pay off for the larger organization. In those cases where a Desktop client is essential well there is still no competition and for that you are stuck with Office. The free open source alternative native clients of LibreOffice and OpenOffice are good though not good enough in my opinion. Although they have won some notable migrations primarily in governments and they do have feature parity. They are nowhere near a match in terms of interface and usability. Thus the Desktop is still an Office domain. The problem is the Desktop is becoming irrelevant.
The next and final shift challenging the Office juggernault is being driven by the changing relationship between users, their devices, and the software that runs on top those devices. Less and Less software is accessed natively from the desktop and instead more and more software is being used as a service accessed over the network. Modern users consume and access software services only when needed often while on the go from servers in the cloud. Both this driver and the previous one mentioned above are interrelated with each driving the other.
Note, that Microsoft Office does still have an advantage here. It is still the best office productivity suite and importantly Microsoft as a company is adopting to the changing times under its new CEO.
At our core, Microsoft is the productivity and platform company for the mobile-first and cloud-first world. We will reinvent productivity to empower every person and every organization on the planet to do more and achieve more. Sateya Nadella.
Its response to the shifting landscape has been the release of Office 365 as noted earlier. In fact this has been one of the most successful product launches for the company in recent years.
Redmond claims Office 365 is the fastest growing business line in its history. Last week it claimed to have 5.6m users. The Register 2014.
My belief is that Redmont will avoid the sad fate of Corel Wordperfect and remain relevant for some time still. If only because of its new willingness to embrace different delivery mechanisms and pricing mediums especially the subscription model and also its decision to expand its foothold and move beyond the reliance on the Windows ecosystem and upgrade cycle.
Future children may not grow up with it as a staple but as long as it maintains its significance to businesses it has a bright and likely even more profitable (subscriptions cost more in the long run) future ahead. However, for you, the regular user when buying that next Laptop (after 4yrs and the 3rd tablet purchase) don't select Office as an option. You no longer need it! Try it online. Use the other online alternatives or the free Apple substitutes on the Mac already got you covered.